SCHOOL INTERVIEW PREPARATION CLASSES FOR RECEPTION TO UPPER PRIMARY STUDENTS
小學入學面試預備班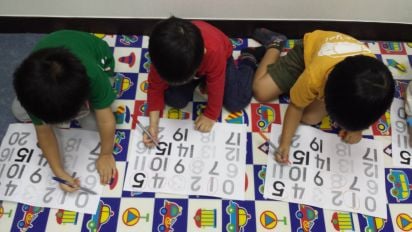 GET INTO THE SCHOOL OF YOUR CHOICE WITH ITS EDUCATION ASIA

ITS研習社協助你的孩子進入的你心儀合適的學校

The school interview is an integral part of nearly every school's admissions process in Hong Kong. With the right approach and the right kind of preparation, the interview can be an enjoyable and, ultimately, a successful experience for your child.
學校面試是幾乎香港每間學校招生過程中不可或缺的部分。只要方法正確的和有充分的準備,面試也可是孩子一種快樂﹑成功的經驗。
Our qualified teachers help children as young as 3 years old to prepare for individual and group interviews for entry into international, local and bilingual schools (reception, lower and upper primary).
面試由我們合資格的教師幫助孩子,年齡最小3歲,為他們準備個人和小組面試,進入國際,本地和雙語學校(K2/3,小學一至三年級和小學四至六年級)。
WEDNESDAY SESSIONS
September 2019
4, 11, 18, 25
October 2019
8
Time : 4:00 - 5:00 pm
SATURDAY SESSIONS
September 2019
7, 21, 28
October
5, 12
---
FEE: HK$3,800
We help your child build confidence so that the school interview is a fun experience!
我們為孩子樹立信心,讓學校面試成為他們一個有趣的經驗!
Why ITS Education Asia?
We equip children with the skill sets that are required to succeed both in a group interview and school life.
We help children build on their social skills through fun games and dynamic group activities.
We focus on children's speaking and listening skills and observe how well they interact with peers.
We aim to bring out the 'naturalness' in each child so they perform their best.
We have expertise in advising parents about school admissions
為何選擇ITS研習社?
們為孩子裝備在小組面試和學校生活中所需的技巧。
通過有趣的遊戲和動態的小組活動,為孩子建立社交能力。
我們著重孩子的口語和聆聽能力,觀察他們與同齡學生的互動。
ITS入學諮詢顧問為家長提供入學建議。

Classes taught by qualified Native English Speaking Teachers

All ITS Education Asia teachers are highly educated Native English Speakers. Their degrees include English, English Literature, Education, Early Childhood Education and Drama.

課堂由合資格﹑母語為英語的教師授課

ITS研習社的教師都受過高等教育,且母語為英語。他們已取得學位包括英語,英國文學,教育,幼兒教育和戲劇。

Small Class Sizes

小班教學

There are two types of classes at ITS Education Asia: Small group sessions and One-on-One classes.

ITS研習社提供2種類型入學預備班:小班和一對一課堂
Our small group classes are student centred and we ensure that each student in the class is an active participant and given optimal attention by the teacher. The number of children in each class is limited to no more than six.

我們的小班以學生為中心,保證在班上每個學生都能積極參與,令他們都得到老師的注意。每組課堂最多學生的數目為不超過六個

Our small group classes allow teaches to monitor student behaviour carefully and circulate around the room to listen and observe groups in action.

小班課堂允許老師仔細地監督學生的行為,聆聽和觀察他們課堂的表現
What is Interview Skills training?
"面試技巧"培訓是甚麼"?

At ITS Education Asia our well-planned courses include (among other things):

在ITS研習社的課程精心策劃其中包括(但不限於):

Manners and positive interaction with others
approaching others in socially acceptable ways
asking for permission before acting
sharing toys/materials

禮儀和與他人積極互動
在社會上適當的方式和別人相處
在行動前請求許可
分享玩具/材料

Age-Appropriate skills
reading skills
focusing on tasks
following directions
reasoning skills
observational testing

按照年齡所需的技能
閱讀能力
工作時的專注力
聽從指示
推理技巧
觀察能力

Classroom Activities
story telling
picture description
>draw & tell &; Show &; tell<
literacy & numeracy games & activities

課堂活動
說故事
圖片說明
聽從指示
畫畫和表達和展示和表達
認字﹑算術遊戲與活動

Mock Interviews
All students will participate in mock interviews at the end of each course which are conducted in a similar way to the real interviews. Parents receive feedback on their child's performance. These mock interviews will take place without parents for children entering Reception and Primary One.
模擬面試
所有學生將在課程結束時將安排進行模擬面試,面試將會模擬實際面試的情況。完成後家長將會收到孩子的表現報告。幼兒班和小一模擬面試時,家長不能陪同學生進行
What parents say about our classes:

(December 2017)
Tyler attended 3 private classes with ITS Education for School Interview Preparation in November 2017. Tyler got accepted into Stamford American International School in their bilingual class. I wish to thank Ms. Anne & Ms. Christina for all the pointers and advice that they shared with us during the interview preparation courses. It has certainly widened my perspective and gave me an idea of school interview environment in HK. It's very competitive indeed and much is expected from a 4 year old child. Nevertheless, we're glad that Tyler managed to attend a few classes with ITS Education Asia and got accepted into the school we were most keen for.

Tyler在2017年11月参加了ITS Education 3堂私人课堂, 接受了学校面试准备的教育。 Tyler被斯坦福美国国际学校录取了并在他们的双语班授课。
我要感谢 Ms. Anne和 Ms. Christina的所有指导和建议, 他们与我们分享在面试准备课程。这当然会扩阔我的视野, 让我了解香港的学校面试的环境。对一个4岁的孩子, 这是非常有竞争力的。然而, 我们很高兴Tyler成功地参加了一些ITS Education的课程, 并被我们最热衷的学校录取了。

家長對課堂的感想:
I wanted send a note to thank you and Carina for your help this spring to prepare my son, Luca, for his reassessment at CDNIS. The one-on-one at ITS with Carina was very useful. We are thrilled that Luca was accepted to pre-reception this fall! Please pass on my gratitude to her for her help!

我想送一張卡感謝你和老師Carina幫助我兒子Luca今年春天在CDNIS的面試的第二次評估。ITS和Carina一對一課堂非常有用。我們很高興Luca在這秋天能成功入讀幼兒班!請替我向Carina傳遞我的謝意!
Shaun Bernier
May 2016

Amy has come a long way under your guidance since she started at ITS in the summer. It is evident that you are an excellent teacher, Ms. Christina. Amy really benefited a great deal from your coaching. I would love to have you teach her again in the future if possible.

Amy自夏天在ITS入讀後,在老師的指導下有了明顯的進步,這證明了Christina是一位優秀的教師。Amy在她的教導下受益匪淺。如果有機會,我希望這位老師繼續教導我的女兒
Mrs Tao
November 2015

Our daughter (who is normally very shy amongst strangers) passed her interview and was accepted by the school of our choice which I am sure was down to your prep classes!

我們的女兒(通常對陌生人時很害羞)通過了學校的面試而且成功入讀心儀學校,我肯定這是面試預備班的成果!
Julie Wong
March 2014

Thank you very much for teaching Christopher for the past few months! I am very happy with his progress in oral English in such a short time. We are delighted that Christopher got an offer for a place at Canadian international! Even though Christopher has been going to Sunshine House Preschool for two years, I believe to improvement in his oral skills was completely due to Ms. Anne's influence.

非常感謝ITS在過去的多個月對Christopher的教導!我很高興他的英語口語能力在這麼短的時間取得進步。我們很高興Christopher在加拿大國際學校能取得一名學額。儘管Christopher已經在Sunshine House Preschool就讀了兩年,但我相信他的口頭表達能力改善的原因歸功於Anne的影響.
Ms. Ip
March 2014

I would highly recommend the interview practice classes run by ITS Education Asia. Not only are Anne and her team very knowledgeable about the educational systems in Hong Kong, they also have good insight about the assessment process in a good number of international schools. Anne and her team apply their knowledge in structuring their interview practice classes which means their programs cover a lot of the relevant and important questions/exercises and allows young kids to be well-prepared for their assessments.

我誠意推薦ITS 研習社的面試預備班。Anne和她的團隊不但非常熟識香港教育制度,亦十分了解多間國際學校入學評估程序。Anne和她的團隊開辦的課堂覆蓋很多面試常見試題及提供許多實用的練習,讓孩子為面試做足準備
Kitty Cheung
February 2013

My daughter was very comfortable at ITS after the first class. I can see the difference too as she has a real thirst for learning after the classes. All the work paid off as she got an offer at the school of our choice!

第一次上完ITS的面試班後,我的女兒下課後很享受課堂。我可以看到其中的差別很大,因為她上完課後,她會主動學習。我們為她所做的都現在得到了回報,因為她能入讀我們理想的學校!
Celeste Campbell
January 2013


CREATIVE SUMMER ENGLISH LANGUAGE COURSE 2018
(For students entering Reception & Year 1)
Class description: Children fully immerse in an inquiry-based English language course through an arts-centered curriculum full of creativity and fun including interactive games, music, movement, arts and crafts.
Through a variety of projects, games and activities children are motivated and inspired to use varied vocabulary and fluently converse in English.
Inquiry based learning and full immersion give children the confidence to use what they learn giving them a lifelong advantage to master a foreign language.
The focus of the classes is to place student's questions, ideas and observations at the centre of the learning experience so they are engaged, motivated and inspired, improving their reasoning and problem solving skills.
*If you would like to your child to attend a private lesson, please contact us on [email protected] or complete the online enquiry form to learn more about our customized programmes.
如你的孩子有興趣參加一對一的私人補習,請聯繫[email protected]了解我們更多私人定制的課程。
---