Design And Make Your Own Hand Bag
Profiles of the teachers
Return to Fashion and Dressmaking
Fashion Show Photos
---

Make your own designer handbag. A great way to give yourself an opportunity to present your individual feeling of trend, spirit and identity. Plus that designing and making your own handbag is really making an announcement about yourself!

Learn to make bags like a professional in friendly, supportive small-group workshops . You'll be amazed at what you can achieve when you're given the right guidance!








---
Bag Making Workshop
Fabric and Leather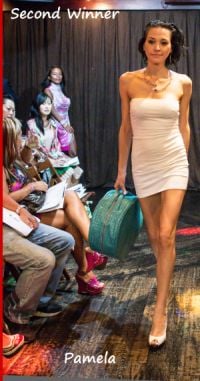 Session 1:
Introduction and overview
Exercise and assessment deadlines
Equipment
Design, fabric and drawing basics
Draw bag
Session 2:
Production drawing
Pattern and mock-up
Sizing and design theory
Bag tech pack - specification
Make bag tech pack
Session 3:
Session 4 and 5:
Bag sewing theory
Bag sewing and tech making
Fabric bag – draft and make
Session 6:
Leather overview
Leather bag plan
Tech pack
Leather bag plan
Session 7:
Bag design presentation
Drawing and colouring
Sessions 8 to 10:
Session 11:
---
Workshop format – join any time, must complete within 15 weeks.

Max. 6 in any one workshop
Attendees must provide their own materials for the bag but will provide tips on where to buy or help you get them. We provide everything else - machines, tools, thread and so on.

Price: $8800
Sessions to be taken from the following:

Monday/Tuesday/Wednesday/Thursday/Friday/Saturday
Morning session: 10am – 12noon
Early afternoon session: 1pm – 3pm
Late afternoon session: 4pm – 6pm
Evening session: 7pm – 9pm

We also offer customized schedules for private lessons.
Please note that in addition to the main ITS terms and conditions, fashion course have some additional conditions. Please read them here.
Return to Fashion and Dressmaking
Profiles of the teachers
Fashion Show Photos